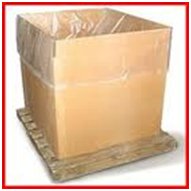 Gaylord Liners
Gaylord Liners and tote bin bags come in clear and a variety of colors and tints. Liners are used to protect materials from a container or box that might be harmful to the product being processed, stored, or transported. Gaylord bags fit inside corrugated boxes, metal bins, fiberglass containers and plastic containers, and cover the bottom and the sides of the box in polyethylene plastic.
Our Gaylord Liners / Bags are manufactured using the appropriate resin blends for your particular application. Not all applications are the same, thatís why we custom blend materials for your exact use. There is a wide range of industries using Gaylord Liners. Some of these are, but not limited to:
Foods
Chemicals
Pharmaceutical products
Powdered products
Abrasives
Metal particles
Adhesives
Coatings
Compounds
Resins
Our Gaylord Liners are available in all thicknesses, sizes and specialized blended materials.
Call PolyKing now at (877) 765-9564!
Click here for a quote from PolyKing!
We can recommend the right Gaylord Liner for the right application!