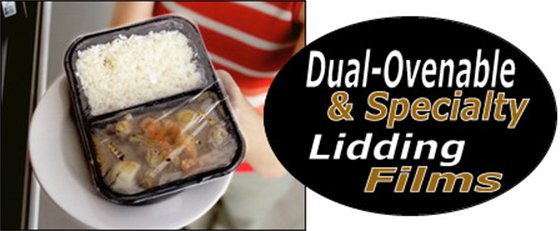 Lidding Films
Dual-Ovenable Lidding Films
Ideally suited for all your dual-ovenable applications, this film is perfect for the packaging of your frozen foods, prepared meals, or any application that needs to be heated in an oven or microwave. Excellent clarity, customized peelability, and superb heat resistance are just some of the wonderful attributes of this film. With the ability to seal to CPET, APET, PP, PS, PVC, PE, or paperboard, we are sure to have a film that is right for you. Available in a variety of thicknesses, ranging from 50 gauge - 2.6 mil.
Specialty Lidding Films
Our specialty line of lidding films are ideally suited for virtually all types of trays and cups. Available in clear, white, metalized and also in retortable form, these films can be sealed to CPET, APET, PP, PS, PVC, or paperboard substrates. Perfect for dairy products, industrial applications, or any application where reheating is not necessary. These films are also available with customized peelability standards; featuring Easy Peel, Medium Peel, Hard Peel, or Weld Seals.
High-Barrier Lidding Films
Designed for the products you need to keep safe from harmful bacteria and oxygen to improve shelf life. Our high barrier lidding films are made for use on ready-made trays as well as top webs on all thermoform-fill-seal (TFFS) lines. This series of films can be matched with different substrate types including CPET, APET, PE, PP, and PVC. Available in numerous thicknesses.
Breathable Lidding Films
Ideally suited to extend the shelf-life of your freshcut produce, by properly controlling the release of CO2 and the entry of O2 into the package. Designed to weld seal to PP and PE tray substrates, these films are perfect for the packaging of fresh-cut tomatoes and onions. Always in stock and always available for custom slitting.
Prepared Meals
Meat
Dairy
Produce
Industrial
Many More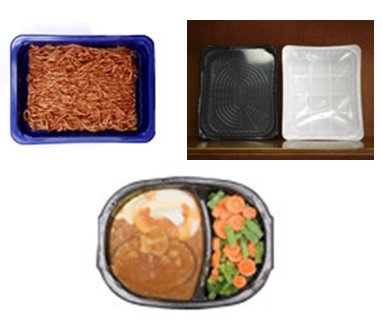 Most items in stock
Customized slitting in 2 weeks
Micro-perforation available
Anti-fog additives available
Customized Peelability
Request a Sample
Call PolyKing now at (877) 765-9564!
Click here for a quote from PolyKing!
We can recommend the right Lidding Film for the right application!